The journal "World of Russian-Speaking Countries" was founded in 2019 with the scientific partnership of two universities: Yaroslavl State Pedagogical University named after K. D. Ushinsky and Southwest University of China.
The academic journal is included into the list of the reviewed scientific issues, where the main scientific results of theses for a degree of the candidate of science, for a degree of the doctor of science (VAK LIST) should be published.
Categories of the journal: "Political Science," "Philology," "Culturology." The section "Political Science" includes articles corresponding to the scientific specialties of the Higher Attestation Commission of the Russian Federation 5.5.2. "Political Institutions, Processes, Technologies" (Political Sciences), 5.5.3. Public Administration and Industry Policies (Political, Economic Sciences), 5.5.4. International Relations (Political Sciences); column "Philology" is for publication of materials on scientific specialties 5.9.1. Russian literature and literature of the peoples of the Russian Federation (Philological Sciences), 5.9.2. "Literature of the Peoples of the World" (Philological Sciences), 5.9.8. Theoretical, applied and comparative linguistics (Philological sciences); section "Culturology" − 5.10.1. "Theory and History of Culture, Art" (Culturology).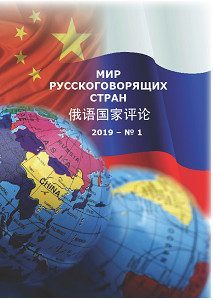 The priority of the journal is problematics related to various processes taking place in the fields of culture, politics both in Russia and abroad. The materials submitted to the journal are reviewed by members of the editorial board, which included doctors of political, economic, historical, philosophical, philological sciences, art history, known for their publications on the declared topic. The materials published in the journal are reviewed by members of the editorial board and external experts.
Publication frequency is 4 issues per year. ISSN 2658 7866 Prefix and first part of DOI index 10.20323/2686-8652-Media registration number: Federal Service for Supervision in the Field of Communications, Information Technologies and Mass Communications (Roskomnadzor) PI No. FS 77 75509 of April 12, 2019
The journal is presented in the combined catalogue "Press of Russia"
You can subscribe to the "Socio-Political Studies" journal starting from any issue on the website "Press by Subscription". A subscription to a scientific journal in a convenient electronic form is open on this site: By  "Clicking" on the link, the subscriber is automatically on the subscription page, where you can quickly subscribe in a convenient way. Subscription Index: Ye33346 Media registration number: Federal Service for Supervision in the Field of Communications, Information Technologies and Mass Communications (Roskomnadzor) PI No. FS 77 75509 of April 12, 2019
The journal is located in the combined directory. The journal is indexed in the RSCI eLIBRARY.
Access to all issues of the journal is open and free on the journal website, in the Scientific Electronic Library – elibrary.ru, in CyberLeninka and in the electronic library of RUKONT